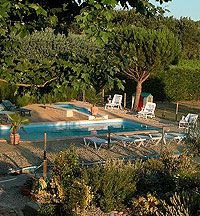 Provence-Alpes-Cote d'Azur is one of the most popular French regions for living and holidaying in, in part due to its pleasant Mediterranean-style climate that offers hot summers and mild winters. It is a wine-producing region, known particularly for the various Provençal rosés, Bandol, and Cassis.
The French Riviera (Côte d'Azur) the glamorous Mediterranean resort area, is mostly located in this region. Due to its overwhelming popularity the French Riviera becomes very crowded in the summer. English-speaking tourists are well-tolerated in the bars and restaurants.
The world-famous Cannes Film Festival takes place in the French Riviera town of Cannes each year.
The city of Avignon, in the Vaucluse department, holds the Avignon Festival in July. The festival focuses on traditional theatre but also includes other forms of performing arts, which are presented in the historic Palace of the Popes or in the streets of Avignon.
The regional capital is Marseille, France's second largest city. In the past it was an important Mediterranean port city, particularly due to its links with Algeria, Morocco, and Tunisia.
Once largely overlooked, the city of Marseille is gaining a contemporary reputation as a fashionable and tourist-friendly place, with lively venues for entertainment and nightlife. It also offers a variety of cultural attractions, such as historical and maritime museums, theatres, cinemas, art galleries, and the famous Marseille Opera. Historical areas worth visiting include Le Panier, the oldest part of Marseille; Vieux Port (old harbor) and its lively fish market; and Notre Dame de la Garde.
---