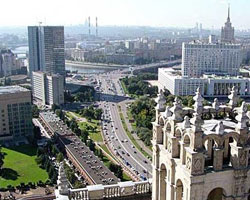 Presnensky (a prime area) is a sprawling and varied district, generally known as Presnya. It houses several tourist attractions, old industrial areas, administrative offices, and upmarket homes.

The Moscow Zoo is found here, with ponds that originated from the Presnya River, which the district is named after. A number of other ponds in this district separate the old area from the newly expanded Expocentre, the sprawling exhibition and convention centre on the banks of the Moskva, and the new financial district under construction, the Moscow International Business Centre, or Moskva-City, right next to the Expocentre. Moskva-City is an ambitious undertaking. Situated on 100 hectares of land far enough away to ease traffic congestion in the city centre, the development will include millions of square metres of office, residential and shopping space, sports and recreation facilities, a new City Hall, government buildings, subway stations and an amusement park. One of the buildings currently under construction, the Russia Tower, will be the world's tallest building when it is completed.
Other places of interest here include the White House of Russia, the seat of government, and the Stalin-era Kudrinskaya Square Skyscraper.
Upmarket investment properties may be found here in two exclusive residential areas. One is Patriarshy Ponds, along the Presnya River, just inside the Garden Ring Road. Despite the plural of the name, only one pond remains in this old, wealthy neighbourhood, a beautiful, 9,900 square-metre pond with a depth of 2 metres. The other is Tishinskaya Square, also known as Tishinka, a long-time shopping area in the heart of Moscow, sandwiched by the Zoo and lively Tverskaya Street.
Another residential area, Shelepikha, is slated for major redevelopment. It consists of 5-storey buildings and is located in the east side of Presnya. Between Shelepikha and Moscow City is the industrial zone, Yermakova Roshcha.
Presnya has long been home to a fairly large Armenian community. An Armenian cemetery can be found here near the Vagankovo Russian Orthodox Cemetery, where many famous Russian artists and sportsmen have been laid to rest.
Patriarshy Ponds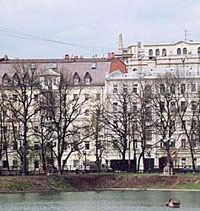 Despite its name, only one pond remains in the park that is surrounded by the upmarket neighbourhood of Patriarshy Ponds. It is popular among expatriates, quite safe, and very accessible; it is in the centre of Moscow, and there are five Metro stations within walking distance. The city's major roads also pass near it. Several embassies, trendy restaurants, lovely museums and theatres are located near the park. In the winter, the pond frezes over and becomes a popular skating rink. In the summer, the parks is full of joggers, people walking their dogs, families and picnickers.
---