The Preili District occupies nearly the geographical centre of the historic Latgale region. Preili is a land of lakes, with 84 of them found in the territory.
Preili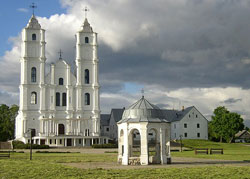 Its main town, Preili, is believed to be one of the earliest settlements established in Latvia. Its most notable attraction is the Neo-Gothic manor of Count Borch (or Borhi), whose family was of Germanic descent. The Borch family left the town not only their manor, but the surrounding landscaped park, which is now the main venue for cultural events in town as well as outdoor recreation.

Another architectural monument found in Preili is a Catholic church built in 1886 which stands in the centre of the town.
Preili is essentially a sleepy provincial town, where the traditions of folklore, crafts and Catholic devotion remain highly valued.
---