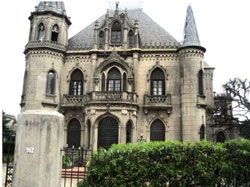 Prado (a prime area) is an old neighborhood in northern Montevideo. There are 19th and early 20th century "quintas" or huge colonial houses, many of which have been converted into museums or national monuments.

Prado's main tourist attraction is the Parque Prado, where one could find the lavish rose garden, El Rosedal; La Diligencia, a sculpture depicting a stagecoach, horses and a rider; and a monument to the last of the Charrúas Indians. Near the park is the site for the yearly Expo Rural, with its livestock exhibitions and auctions, rodeos, and horse races.  
Prado has three soccer stadiums: Parque José Nasazzi, Parque Federico Saroldi and Parque Alfredo V. Viera.
---