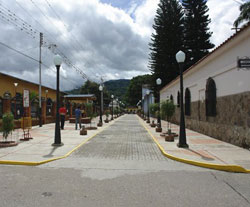 The state of Portuguesa acquired its name from the Portuguesa River which is part of the Orinoco. It thrives on agriculture and has a large production of rice, corn, cotton, sugar, coffee, and meat. Recently oil production is also being tapped.

Its capital, Guanare, has developed into an important commercial and manufacturing centre. It is also a pilgrimage centre and regarded as the spiritual capital of the country. The most visited site here is the national shrine to Our Lady of Coromoto. It is founded on the spot where the Virgin Mary was believed to have appeared to an Indian chieftain. The shrine has wonderful stained glass artwork and grand marble floors.
Many traditions are still alive in Portuguesa. The Toros Coleados is typical of Los Llanos culture and a rite of passage for many young males. Riders chase a bull with the intention of overthrowing it. Another rite, the Contrapunteo, is unique to the region. It is a performance set to music that tells the story of bravery during battle. It is one of the highlights of the annual Festival Internacional de Música Llanera "El Silbón", which features artists from Colombia and Venezuela.
The state's most important museum is the Complejo Ferial José Antonio Páez, which has a collection of Pre-Columbian art and a showroom of Llanera culture.
---