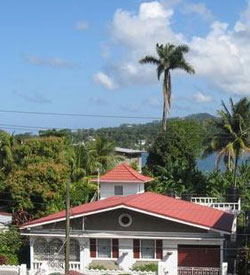 A beautiful green rural area with wonderful beaches, Portland (a prime area) has long been a popular holiday spot for the wealthy as well as a popular setting for films. Its coastline has a varied landscape—rivers and bays, waterfalls, hills and caves. Pristine beaches like Frenchman's Cove, Winifred, Boston, and Dragon Bay draw visitors. The beautiful, deep blue, "bottomless" Blue Lagoon was where the movie of the same name was filmed. While there are resorts in these areas, Portland's splendid beaches tend to be much less crowded than those in other parts of Jamaica, adding to their attractiveness. Also found off the coast are Navy Island and Pelew (Monkey) Island.
Due to the influence of the Blue Mountain ridge to its south, which traps moisture from the northeast trade winds, Portland is quite humid. It has the highest rainfall of all the parishes and is an agriculturally rich area. Less than two dozen factories are located here.
The tourist attractions of Portland consist mostly of natural attractions. Apart from the famous beaches and coves, the Rio Grande is a popular site, being a great place for rafting. Among its most popular dining establishments is Boston Jerk Centre, which serves a wide variety of Jamaican jerked meat dishes. The Portland Jerk Festival, featuring bands as well as jerk stalls, takes place every year in Boston Bay.
One important historic attraction here is the Charles Town Maroon Museum—maroons were slaves who were released by their Spanish masters when the Spanish were kicked out of Jamaica by the British. The maroons formed independent settlements and fought the British for decades until they won autonomy for themselves, 50 years before the abolition of slavery.
Portland's quaint fishing villages remain quite unspoilt. The capital is Port Antonio, an important town with two harbours. Some 15,000 of Portland's estimated population of 82,000 live here.
Many affluent people purchase investment properties in this scenic tropical paradise, including a number of celebrities. There are few white-sand beaches and historic attractions here, but it still has a delightful atmosphere. With its relaxing green environment and small secluded beaches, it is a good place to stay for those who really want to get away from it all.
Port Antonio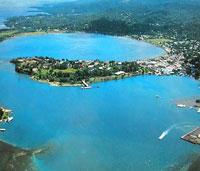 The first holiday destination developed in Jamaica was the town of Port Antonio. In recent years, it has been eclipsed by hip areas like Montego Bay and Ocho Rios, but its landscape remains as lovely as it was when wealthy tourists first discovered the town in the late 19th century. Nestled between the Blue Mountains and the Caribbean Sea, it has kept its idyllic atmosphere.

The poet Ella Wheeler Wilcox called this major banana port the most exquisite port on Earth. Its development as a tourist spot began when banana companies offered passage on their ships to tourists in order to add to their profits.
Port Antonio fell into decline when disease struck the banana crops, but was saved by film star Errol Flynn, who purchased Navy Island and drew attention to the town. Affluent visitors flocked to the town once more in the 1960s. However, Port Antonio has never drawn masses of visitors the way other popular parts of Jamaica have. This may have helped keep it pristine and beautiful. It is known today for its environmentally friendly tourist practices.
The famous, "bottomless" Blue Lagoon is located in Port Antonio, along with beautiful beaches, coves and waterfalls. Other natural attractions include the Rio Grande River Valley and the Blue Mountains National Park. Port Antonio's waters offer wonderful snorkelling, surfing, and fishing. There are also some historic attractions like the eerie remains of Folly House, and the elegant white sprawl of Trident Castle. A number of period buildings can still be found in the town. Some delightful examples of Victorian gingerbread architecture can be found in the district of Tichfield, the favourite haunt of the port town's first wealthy tourists.
There are some attractive investment properties here, like Goblin Hill Port Antonio Villas on the San San estate, which consist of exclusive condominium units. A private golf course and white-sand beach are accessible from the estate.
Port Antonio is generally a somewhat sleepy, rustic town with an old-fashioned character. The main event here is its International Marlin Tournament in October.
Frenchman's Cove
Frenchman's Cove is the site of one of Jamaica's most beautiful beaches. The wide expanse of white sand is edged with palm trees and cliffs. The cove has a lush natural landscape which attracts various types of wildlife. At night the area is aglow with fireflies. There is a freshwater stream which runs through the exclusive Frenchman's Cove Resort, a 45-acre private estate that is popular for weddings, honeymoons, and other gatherings as well as a holiday retreat. Villas sit on cliffs overlooking the sea. The beach is owned by the resort, but non-visitors may use it for a fee.
The cove is just 15 minutes away from the town of Port Antonio, the only significant town in the parish of Portland.
Winifred Beach
Winifred Beach is one of the most popular beaches in Portland. Pristine, with shining golden sands and calm turquoise waters, Winifred is also known as Fairy Hill Beach. It is surrounded by peninsulas and sheltered by a coral reef, which can be explored underwater. On its eastern side is a freshwater mineral spring.
A public beach, Winifred Beach is a favourite place for locals to hang out on weekends. Children can ride on horseback while casual parties take place here on weekends. There are many refreshment and souvenir stalls around. However, its facilities are not that good and the road leading to the beach is rather rundown. The local government has plans to improve the infrastructure and facilities.
Dragon Bay Beach
Dragon Bay Beach is known as one of the best beaches in Portland. This splendid, sun-drenched beach was used as a movie setting for the Tom Cruise film Cocktail. The cove, with its pristine sand, is owned by the resort, though the public may use it for a minimal fee. Scuba diving equipment is rented out here. Other explorations can be done via boat.
Both Frenchman's Cove and San San Beach are nearby, and can be visited by boats rented at Dragon Bay. The gorgeous Blue Lagoon is accessible from Dragon Bay through a short path. The 200-foot deep pool may be an extinct volcanic crater and it owes its myriad colours to its depth.
Boston Bay
Boston Bay has some of the best waves Jamaica, and while they aren't the biggest and the best in the world, novice surfers can get their feet wet (literally) by trying them out. Windsurfing is quite popular here too.
Hurricane winds have blown much of the beach's golden sand away, but the beach is quiet and surrounded by low cliffs, and the waters are a brilliant blue.
Another of Boston Bay's main attractions is its jerk meat, which is said to have originated in Boston Bay. While it is debated whether their jerk meat is the best, it is generally agreed that it is the spiciest in Jamaica. Jerk stalls abound, and the Portland Jerk Festival takes place here every year. Bands occasionally perform here on weekends as well as during the Jerk Festival. The popular Boston Jerk Centre can be found near the beach.
Boston Bay lies Half Way between Port Antonio and Long Bay, yet it is quiet and secluded throughout most of the year. There are no large hotels in the area, but there are some tourist attractions nearby: the Athenry Gardens, set in a banana plantation and housing hundreds of species of plants; the shimmery Somerset Falls; the meandering Rio Grande River, Jamaica's largest source of fresh water. San San Beach, an exclusive private beach, is located just 2 ½ miles away and has some nice reefs for exploring.
---