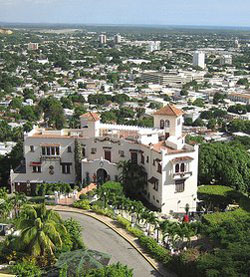 Ponce, (a prime area) the second largest city in Puerto Rico, is an exciting city of trade and industry. The Playa de Ponce Port is always bustling with ships sailing out with the country's agricultural products of coffee, sugar, rum and tobacco to various parts of the Caribbean, and receiving shipments from the rest of the world.

Ponce has a busy manufacturing sector, with factories specializing in simple leather, textile and apparel production to the more complex manufacturing of electronic, electrical and communications equipment, and the processing of pharmaceutical products.

There are a number of services in the thriving town, especially retail, banking and financing services.
Ponce has a rich historical heritage, none of which has been sacrificed in the name of progress. In downtown, one could see several landmarks from the 1800s.The town square, Plaza Las Delicias, is home to the beautiful Lions Fountain and the Ponce Cathedral. Not too far from the Plaza is Parque de Bombas, a red and black wooden firehouse built in 1882, and which now houses a museum and a small concert hall where the municipal band performs every Sunday evening. The oldest building in the Plaza is the Spanish colonial-style Casa Alcaldia. Nearby, the Casa Armstrong-Poventud, in contrast, is representative of the neo-classical architectural style.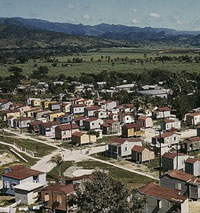 A favourite of tourists is the Ponce Museum of Art, which has the most extensive art collection in the Caribbean. Its collection includes paintings from the pre-Raphaelite era and the works of European masters such as Rubens and Rodin.

In Ponce's historic district, many of the buildings have been restored and preserved in a massive $440 million revitalization project. The district made it to the Project for Public Places' list of the "60 World's Greatest Places", for its "graciously preserved showcase of Caribbean culture."

There is no shortage of nature attractions in Ponce. A trek up El Vigia Hill gives sightseers a breathtaking view of the sea and mountain meeting. The 100-foot observation tower La Cruz de Vigia gives a bird's eye view of Ponce and Caja de Muertos. Near El Vigia Hill is Castillos Serrallés, the former residence of the powerful Serrallés family of distillers who produced the popular Don Q rum. The castle itself is representative of the Spanish Revival architecture of the 1920s.
Not too far is the Tibes Indian Ceremonial Centre, a valuable archaeological site that was discovered in 1975 following a hurricane. The site of an ancient cemetery, Tibes has yielded courts, petroglyphs and over 200 skeletons from 300 AD, clear evidence of the existence and culture of the Igneri Indians who lived before the Taino.
Visitors who get tired of all the sightseeing could visit the fun boardwalk La Guancho Paseo Tablado. The pier has ferries that take tourists to the beaches on Caja de Muertos and the 19th century lighthouse on Cardona Island.
---