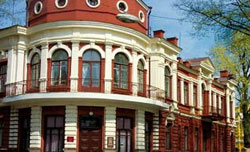 Poltava is a sight to behold during spring, when cherry blossoms are abloom along its beautiful streets. The oblast also features architectural gems dating back to the 17th century; it is also home to the Hohol preserve-museum, the Kotliarevsky villa, the Mikolaivska church, the Poltava ethnical museum and the Cross-Erecting monastery.

Art aficionados will find Poltava's embroidery and ceramics interesting.
Poltava is a centre of Ukrainian oil and gas industry, with a major oil refinery plant operating in Krementchuk city.
---