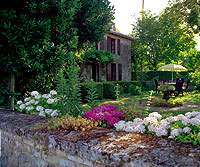 Poitou-Charentes, on the west coast of France with a very sunny climate, features a number of attractive resort destinations. One is the island of Ile de Ré, known for its beaches and the lively harbor town of Saint-Martin-de-Re. There is much to explore on Ile de Ré.
Another island, Ile d'Oleron, is another popular beach destination, and its oyster farms produce the distinctive green-blue Marenne oysters, a classic seafood delicacy. Also worth a visit is the pretty harbor town of La Rochelle, with its well-preserved 17th- to18th-century architecture.
Poitiers is the regional capital. It is home to a variety of architectural sights, mostly medieval. Here you can find the Church Notre-Dame la Grande, Saint Pierre Cathedral, Baptistère Saint-Jean, and Palace of Poitiers.
In Saint-Savin-sur-Gartempe, there's the Romanesque Abbey Church of Saint-Savin-sur-Gartempe, begun in the mid 11th century, which contains many beautiful 11th- and 12th-century murals, a UNESCO World Heritage site.
---