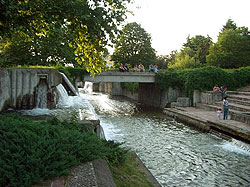 Nature has been very kind to the Pleven region, with its vast plains good for agriculture. Dense forests dot the region, especially near the villages of Nikolaevo, Beglezh, Gornik, Reselets, Suhache, Deventsi, and Radomirtsi. The remains of different times in Pleven's past can be seen today, from Thracian homes and burial sites to rock formations formed millions of years ago.

Pleven is close to the Danube Basin, and the Danube's tributaries—the Iskar, Vit, and Osam rivers—run through the region, although the waters are quite polluted and need treatment before consumption.

Although Pleven's lands yield bountiful crops and provide an idyllic backdrop to country living, landslides are common (particularly along the Danube) and mineral resources are quite scarce.
Pleven City
Pleven is one of the economic centres of northern Bulgaria, driven by the machinery, metalworking and oil industries. After a dip in the post-Communist 1990s, the local economy is on the rise again, thanks to light industry, tourism, and new investments pouring into the city in the late 1990s and 2000s.
Pleven is one of the great Bulgarian centres of sport, and many of the country's athletes who trained at the sports school here have gone on to win Olympic medals for their country.
In the centre of the city is verdant Kailaka Park, which has gently rolling lawns, thickets of trees, restaurants, sports facilities and a four-star hotel.
Not far from the park is the St George the Conqueror Chapel Mausoleum, built in honour of the Russian and Romanian soldiers who died in the Siege of Pleven during the Russo-Turkish War.
The city also has a fine museum. The Bulgarian artist Svetlin Rusev put his collection of fine art on permanent public display in his studio, where visitors can view works by local artists and the great European masters, including Picasso, Chagall, Goya, Renoir, Dalí, Rodin and Degas.
---