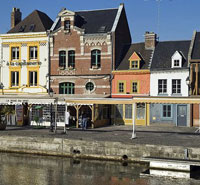 Picardy (Picardie) is a region with a long history of war and conquest, including the Battle of the Somme in World War I. Today, it is a peaceful and quiet region, focused on agriculture and cattle grazing. The historic province of Picardy is located wholly inside the modern region, and the Picard language is still spoken here to this day.
Oise, a department in the southwest part of the region, is the location of Parc Astérix, an amusement park themed upon the popular Asterix comics.
Amiens, the regional capital, is best known for the 13th-century Amiens Cathedral, the largest Gothic-style church in France, which has been called the "Parthenon of Gothic architecture."
---