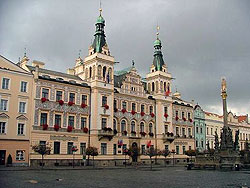 The Pernik Region is one of Bulgaria's main industrial centres, producing heavy machinery, building materials, and textiles. In Stomana there is a steel complex, and Radomir municipality has a huge heavy machinery plant which has seen better days, and is not running at full capacity.

Pernik has deposits of coal, ores, clay, and limestone. Pernik was the site of an ancient fortress built by the great chieftain Krakra, whose determination defeated the Byzantine Emperor Basil II. Some medieval fortresses, churches, and monasteries have been preserved, and can still be explored.
Pernik City
Pernik is a fast-growing manufacturing town, but it is most famous for the International Festival of Masquerade Games, held here every January. Thousands of performers—Bulgarians from every corner of the country and people from all over the world—travel to Pernik to join in the fun, dressed in furs or in drag, dancing in the streets.
The festival traces its origins to the Thracians, who held ritual games in honour of the god of wine, Dionysus. A raucous, colourful procession winds its way down Pernik's streets. The most well-known of the revelers are the Survakari or Kukeri. The group consists of men with masks over their faces and bells around their waists. As they go rhythmically down the street, going from house to house, the clang of the bells and the sound of their songs and prayers ring out.
Rudartsi
At the foot of the Vitosha Mountains, where mineral springs well up, is the village of Rudartsi. Though it is a spa town in the rural mountinside, it is not far from Sofia and is therefore a popular retreat for many city dwellers. A lot of development has gone up in Rudartsi in the last few years, including several modern villas. There are already hotels, restaurants and swimming pools in the town.
---