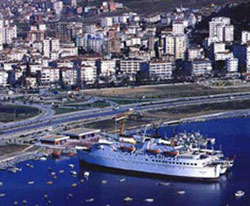 Pendik (a prime area) is a residential area with well-developed infrastructure and varied housing, from public housing blocks to middle-class waterfront apartments and posh, expensive villas.

Pendik is also a prime commercial investment property centre. It has a large weekend street market and a variety of restaurants, movie theatres, and schools. The people here are a mix of early settlers, migrants from eastern Anatolian, and refugees from Bosnia.
The district's main problem is its limited public transportation. Although it has high-speed ferries and the Sabiha Gökçen airport, the buses are few and commuting within the district can take hours.
Kaynarca
The neighbourhood of Kaynarca in Pendik has many important features, such as a Formula 1 circuit, the Sabiha Gökçen International Airport, and Turkey's biggest arsenal. It is also home to the largest hotel on the Asian side of Istanbul, the 25-story luxury Divan Istanbul Asia.
Pelnar
Pelnar is a financial district in Pendik, one of the oldest residential neighbourhoods in Istanbul. It faces the Marmara Sea on the south.
Kurtkoy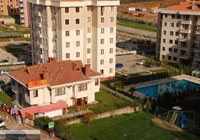 Kurtköy is an outer neighbourhood near Sabiha Gökçen, Asian Istanbul's international airport. It is an important industrial zone, with big food, chemical, textile, mechanical, trade, and construction companies having offices here.

It is also a highly desired residential area. The Crystal Park housing project includes luxury apartment duplexes, with ground floor apartments enjoying private gardens. Recreational facilities include a swimming pool, children's playground, a hobby area, courts for volleyball, basketball and tennis, a mini market, and a caféteria. Fruit orchards give open-air parking a prettier view.
The first stages of a new housing project, Trend Extra, were completed in 2009. The development will offer 172 flats, a small shopping centre, indoor and outdoor swimming pools, multi-purpose hall, fitness centre, Turkish bath, sauna, caféteria, children's play room, and walking and running tracks.
---