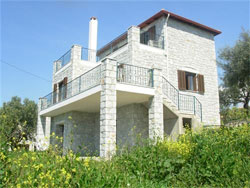 Once an island, the Peloponnese became a peninsula through geological shifts, although when the Corinth Canal was built it was cut off from the mainland again, making it an island, of sorts.

The Peloponnese has a varied terrain. There are mountains, with vast gorges. Rivers wind through them to narrow fertile plains by the coast. Along the jagged coastline are some of the most crowded Greek ports and marinas. Grapes, citrus fruits, and olives grow in abundance. In the Arcadian mountains there are charming little villages.
Tourists are attracted to the area's archaeological sites, such as the ancient city of Mycenae and the temple of Epidaurus (Epidavros). Olympia, where the Olympic Games were first held in ancient times, has many remnants of antiquity. Modern Corinth is built on the ruins of the splendid ancient city. Mantineia and Lykossoura also have important ruins.
The towns of Kaifas and Methana are known for their spas.
Patras, a busy harbour city, has a ruined castle, some spas, and many neoclassical buildings. Kalamata, the capital of Messinia, is quite urbanized, but dominated by the 13th century castle of Geoffrey Villehardouin. Many tavernas and pastry shops sit along its waterfront. Its lovely beaches are situated at the foothills of Mount Taygetos. Kalamata is actually quite modern and urbanized. For most part, though, the aura of classical Greece dominates the Peloponnese.
Arkadia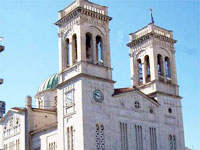 Lush Forests and vast vineyards cover Arkadia, the largest prefecture on Peloponnese, and island's capital. Here, rain is unpredictable. The east region is arid but has nice beaches.

Tripoli, the capital of Arcadia is built on a mountainside. Traditional wooden houses and lovely parks adorn the town's centre. There is a functioning ancient theatre.

Stone houses, an old school, a Byzantine church and a railway station make up the medieval mountain village of Partheni, known for its delicious black cherries. Platanos on Mount Parnona is situated by a virgin forest and abounds in fruit trees. In the lowlads, Neohori thrives on crop farming and cattle breeding.
Once a major inspiration to Greek mythology, Arcadia is not particularly touristy, but the modern village of Paralio Astros has hotels and rental villas as well as small shops, bars, and restaurants.
Argolis
Argolis is the famous site of some of the oldest Greek city-states. Three important fortresses surround the coastal town of Nafplio, made capital of Greece in the 19th century following its independence from Turkish rule. The most prominent is the Palmidi.
The ancient theatre of Epidaurus hosts performances of ancient dramas and comedies, as well as modern masterpieces. The site was a sacred sanctuary where prayers for healing were offered to Asclepius, the god of medicine.
Mycenae's famous Lion Gate opens to a large circular tomb used for mass burials. Nearby is the site of King Agamemnon's tomb, known as the Treasury of Atreus.
Argolis is warm most of the year. Its highly developed east and south regions have nice beach resorts, such as in Porto Heli and Tolon, where sailing and windsurfing are ideal.
Corinthia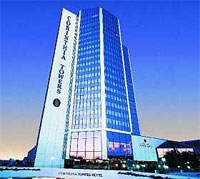 Corinthia, a mountainous region, is a combination of idyllic pasture lands and agricultural farms, and busy seaside towns. Coastal areas experience hot summers, while mild winters are felt inland, with mountains covered in snow.

Corinthia experiences heavy rains and flash floods. Earthquakes are also common, causing major property destructions and continuously changing the region's topography.
Modern Corinthia boasts a five-star casino and inexpensive thermal spas in Loutraki town, popular to tourists. Its capital, the metropolitan city of Corinth, is an international industrial centre.
A large oil refinery, a textile factory, and a meat processing unit operate near Corinth. Its port is used for cargo exports. It is surrounded by an expressway lined with restaurants and gas stations. A very modern electric rail system also operates, efficiently connecting it to Athens.
Due to its rapid urbanization, Corinth anticipates a rise in residential property investments.
Laconia/Lakonia
The river Evrotas flows through the fertile region of Laconia, the largest producer of Valencia and naval oranges in Greece. It supplies the entire country as well as Albania.
Sparta, the region's capital, is known in history and in legends to have brought forth the world's bravest warriors. The powerful ancient city-state, however, has no magnificent architecture to show today, which makes modern Sparta look rather ordinary.
The medieval ruins of Mystras, built by William of VIllehardouin, Prince of Achaia, are a UNESCO World Heritage Site.
Gythio, the cultural and trading centre, has a picturesque village with traditional two-storey houses. Clean beaches for swimming can be found in Archangelos, a fishing village.
Tourism is fast developing in Laconia. It now has a highway. More hotels are constructed to meet the current demand.
Messinia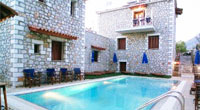 Messinia is known for its natural beauty, from fine sand and pebble beaches to the clear streams and springs, pasture lands, and fig and olive groves that abound against a lovely backdrop of pine-covered mountains. Here, summers are warm, and winters are mild. Rains are common in the inner areas.
Byzantine churches can be found throughout the region, most notably in Kalamata, Messinia's capital and main harbour. Methoni also has mosques, and is popular for its fine resorts and beaches. Kiparissia has ancient temples and 16th century Turkish castles.
Traditional homes in Messinia are made of stone, tiles, and wood. Many of the old houses have been renovated and are rented out or sold as winter vacation homes.
Messinia is vulnerable to earthquakes and severe forest fires.
Kalamata
Famous for its large, black olives, this port town bustles with commercial and transport actitivies. It has the second largest population in the Peloponnese.
Kalamata has nice hotels and tourist accomodations of varying reputation, depending on location. It has several schools and cultural centres. The town passionately supports arts and learning, and hosts the Kalamata International Dance Festival, famous in the whole Mediterranean area.
Kalamata is filled with traditional houses built with stone walls, tiled roofs, and wooden windows. Private vacation homes are either stone bungalows with gardens, or sea-view stone villas.
Residential property prices in Kalamata are comparatively lower than in other regions. Old stone houses are popular purchases.
Piraeus
Piraeus is the most important port in the Mediterranean. Its successful shipping industry is one of the best worldwide.
Despite being a modern city, Piraeus has retained a traditional vibe. Its narrow streets are lined with cozy restaurants and antique shops. While most of its old buildings have been destroyed by earthquakes, traces of neoclassical architecture can still be found.
Poros is distinguished by the red tile roofs of its hillside houses. A clock tower built in 1927 overlooks the town's port and commercial area. The town's beaches are lined with restaurants, hotels, and tavernas.
Modern Troizina rises on the ruins of the ancient city of the same name. In Greek mythology, it was the birthplace of the hero Theseus. The village of Galatas has many shops and restaurants lining its port.
Pastoral and rather dry, Methana is a mountainous area blanketed by cultivated and wild flowers. Goat and sheep herding is a local occupation.
The small harbour town has few hotels, tavernas, a bakery and a grocery store. Inhabitants mostly ride on bikes or walk.
In a rather quiet cove there is a creative centre by the sea where artists and writers from America and other parts of Europe exchange ideas or go on silent retreats.
---