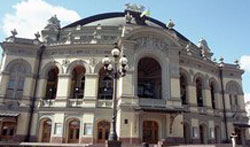 Pechersk (a prime area) is the city's best-known luxury residential area, with several historic neighbourhoods including Pechersk, Lypky, Klov, Zvirynets, Telychka and Chorna Hora.

Pechersk is also the political centre of Ukraine. The Ukrainian Parliament, the President's residence, the Supreme Court and the Cabinet buildings are all here. It also has industrial, healthcare and military areas, as well as parks and stadiums.
Pechersk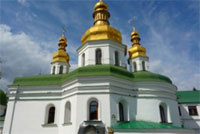 Pechersk is the most prestigious neighbourhood in Kiev. Located in the very centre of the raion, it stands out for its high land prices and highly developed infrastructure. Pechersk's streets are lined with sleek luxury cars. Its upscale residential dwellings are impeccable and refined. Quiet residential neighbourhoods are tucked away far from the major thoroughfares.

The old cave monasteries of Pecherska Lavra, from where the neighbourhood and raion received its name (Pechera means "cave" in Ukrainian), can also be found here. The Great Patriot War Museum, the giant steel statue of Batkivshchyna Maty, and other historical and architectural monuments are not far away. Restaurants, clubs and shopping centres are also easily within reach.

Pechersk is home to numerous administrative, educational, research and cultural institutions, such as the Central Election Commission, theatres, universities, and military schools.
Lypky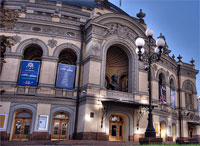 Lypky is a prime neighbourhood in Kiev, the home of Ukraine's wealthy and foreign dignitaries. The buildings housing the Verkovna Rada (the parliament), the office of the President, the Cabinet of Ministers and the Supreme Court of Ukraine are all here. The neighbourhood is known for its distinctive Soviet architecture, purposely designed for these government buildings and high-status residences. A remarkable exception is Gorodetsky House, also known as the House with Chimaeras. Sitting across the street from the Presidential office, it is a stately Art Nouveau mansion that is currently the President's private residence. Lypky has shady, tree-lined streets, adjoined by well-maintained parks and gardens.

Other Pechersk neighbourhoods include historical Vydubychi, which includes the beautiful hill park of the Vydubychi Monastery; Klov, which has the ruins of another monastery; and Zvirynets, which is notable for the Mother Motherland, a gigantic statue of a woman wielding a sword and a shield erected by the Soviets during World War II.
---