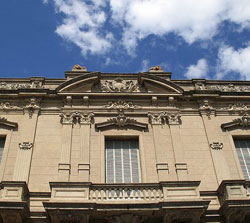 The department of Paysandú was the site of the heroic Defense of Paysandú, where General Leandro Gómez and his fellow Sanduceros (the residents of the region) put up a brave stand against the invading Brazilian forces of General Flores in 1865.

Not surprisingly, the main tourist sites of Paysandú are related to this historical event and other important figures and incidents in the country's rich history. For instance, the department's Constitution Square was built in memory of the region's brave defenders. In the Minor Basilica at the town plaza lies the Madeira urn containing the ashes of General Gómez. The Teatro Florencio Sánchez, built in 1876, was the site where the National Anthem of Uruguay was first played. Much of the department's historical documents and relics, including a collection of funeral art, are housed in the museum of Monumento a la Perpetuidad. The Meseta de Artigas is a 49-metre-high granite plateau that served as a strategic location for General José Artigas and his troops. A bust of Artigas was erected at its summit.
These sites have been designated as National Historical Monuments, with the Plateau of Artigas being the country's only Historical National Natural Monument.
Paysandú is famous for its carnivals, such as the Encuentro con el Patriarca, a celebration that culminates on the Plateau of Artigas, and the annual Semana de la Cerveza, which is a week-long festival of music, arts, sports, and, of course, beer.
Paysandú is primarily noted for its agricultural industries, which include cattle-raising for beef and dairy products, sheep-raising for wool production, and market-gardening, which yields oranges, blueberries, sunflowers and soya beans. The Uruguay River is also a vital resource for the department's small fishing industry.
Paysandú City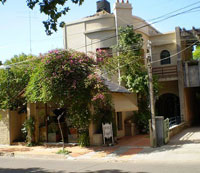 Paysandú City, northwest of Montevideo along the Uruguay River, is the capital of the department of the same name. It is linked to the city of Colón in Argentina across the river via the General Artigas International Bridge. Paysandú is considered one of the more cosmopolitan Uruguayan cities; it has a number of residents originally from other countries, such as Italy, Switzerland, Germany, Russia, Ukraine, and Belgium.

The city's economy largely relies upon agricultural industries, in particular the production of sugar, wool fabrics and leather. It is also world-famous for its beer, produced by the local Norteña Brewery. Its communications facilities are utilized by member countries of the Mercosur (Southern Common Market). Paysandú's forest plantation industry produces high yields of eucalyptus trees.
Although Paysandú has a number of beaches along the banks of the Uruguay River, it is more known for its therapeutic hot springs, specifically the Guaviyú Hot Springs, Almirón Hot Springs, and the Hot Springs of San Nicanor. These tourist-friendly locations offer hotel and motel accommodations and campsites for the whole family.
---