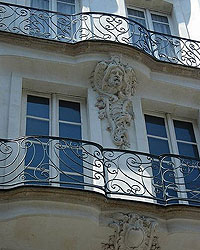 Pays-de-la-Loire, a region lying on the Atlantic coastline, is basically a zone of influence for its capital, Nantes, the sixth largest city in France.
Although Pays-de-la-Loire refers to "land of the Loire River," most of the Loire Valley's esteemed châteaux are actually in Centre, a different region. But there are a number of splendid châteaux within Pays-de-la-Loire, including Château d'Angers, Château de Brissac, and Château de Saumur, all of which are located in the department of Maine-et-Loire. Another key attraction in Pays-de-la-Loire is the medieval abbey of Fontevraud.
Pays-de-la-Loire is a strong wine-producing region, offering wines of remarkable diversity, from dry white Muscadet to fruity red Saumur-Champigny.
The regional town of Le Mans is known for its famous annual auto race, 24 Heures du Mans (24 Hours of Le Mans).
Nantes, the regional capital, is a lively and charming city. In 2004 Time declared it "the most livable city in all Europe." It is a major industrial centre, with a busy seaport, Saint-Nazaire. But it is also rich in cultural attractions, which include the Château des Ducs de Bretagne, Cathedral of St Peter and St Paul, several fine churches, and numerous museums such as the Musée Jules Verne, honoring the famous writer who was born in Nantes.
---