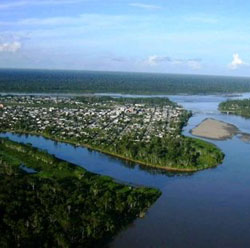 Pastaza is Ecuador's largest province, a humid, tropical land where bananas, grapefruit, tobacco, cacao, tea, and coffee grow in profusion.

Venomous creatures such as snakes, tarantulas and scorpions abound; tourists are advised to be extremely cautious when exploring the jungles, parks and trails in this section of the Amazon.



El Puyo/Puyo
Puyo is the capital of Pastaza. It is a rather prosperous trade centre in the east, its main products being coffee, tea, cassava, and sugarcane. Centro Fátima and Omaere, an ethnobotanical park, are two places worthy of a visit in this region.
In spite of daily heavy rains, Puyo's population is one of the fastest-growing in Ecuador. There are a number of discos and bars in Barrio Obrero, and common restaurant fare in the province of Pastaza are grilled food and pizza. The capital also has its own riverside entertainment parks and sports complexes, not to mention a weekly market where one can witness and observe the interesting cultural exchange among the town's indigenous groups.
---