Pasig City is mainly residential. Several upper-middle class subdivisions can be found here. Ortigas Centre, a fast-growing business and commercial district, is partly located here. In addition, there are some industrial areas by the Pasig River (although many companies have relocated to outlying districts).
Ortigas Centre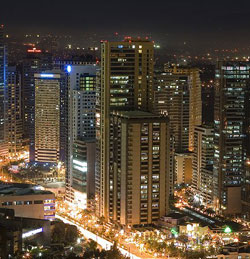 Ortigas Centre is one of Metro Manila's newer commercial and business districts. Until the late '80s, it was quite undeveloped. Most of its properties were empty and full of knee-high cogon grass. Only a few buildings stood on what is now one of the busiest business districts in Metro Manila.

Today, the skyline of Ortigas Centre is vastly different. Its location at the junction of three different cities—Quezon City, Pasig City, and Mandaluyong City—and between the metro's two main thoroughfares (EDSA and the C-5) makes Ortigas Centre a very accessible and important location.
Ortigas Centre, just south of the Pasig River, is the second key business district after Makati's Central Business District. People shuttle back and forth between these two areas on a regular basis. Several major corporations and institutions, including the Asian Development Bank, San Miguel Corporation and Jollibee Foods Corporation, have their headquarters in Ortigas. One of the two trading floors of the Philippine Stock Exchange is here as well.
Since many companies both local and foreign are located in the area, numerous hotels and condominiums are located not far from the high-rise office buildings here. Ortigas Centre has a high concentration of office space, shopping centres, and cafés and restaurants.
Just outside the Ortigas Centre, you can find gated subdivisions where a number of affluent locals and expatriates live.
---