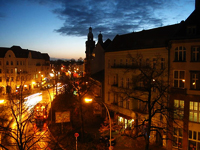 This has become quite a popular district. Many people have been moving into Pankow lately, and its birth rate is the highest in Berlin. Many foreign immigrants, especially professionals who come to Berlin to enjoy its cultural scene, are attracted to this diverse area. Part of former East Germany, Pankow has a historic town-centre, and some other parts still dotted with classically styled buildings.
The architecture of Pankow is quite varied, ranging from the classic 1920s buildings of Weisensee, to trendy renovated ones in the Prenzlauer Berg area, to the new constructions in Karow. Older buildings throughout Pankow are being restored. The residential area of Grune Stadt (Green City) has particular potential as it is being modernized into a centrally located and pleasant green suburb near Pankow's trendy nightlife district.
Pankow has definitely come a long way since re-unification. Presently, there is no railway access to the area, although it is well served by trams.
Pankow has an excellent art school
Prenzlauer Berg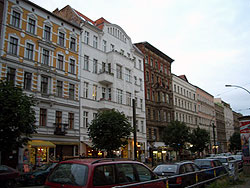 This is a popular area, and is quickly becoming an upscale one. Many wealthy professionals and foreigners live around the Kollwitz-Platz and Helmholtz areas. Prenzlauer Berg has a large number of well-preserved classic buildings, and many apartments in renovated older buildings. There are also elegant new residential developments.

Prenzlauer Berg is very near the city center, although its main attraction lies in its vibrant atmosphere. Creative and intellectual types enjoy Prenzlauer Berg's cultural venues and its alternative scene. Especially popular is Kultur Brauerei, a group of old buildings that were once part of a beer brewery but now house bars, restaurants, nightclubs, and galleries, and a cinema. There are also a lot of trendy fashion boutiques and various art galleries throughout Prenzlauer Berg. Many bars, cafes and restaurants can also be found around here, especially around Kollwitzplatz square. A gourmet market is held weekly in this square as well. Students, artists, and other people with low incomes are especially attracted to the old area near Kollwitzplatz ere there are somewhat shabby classic buildings, with more affordable rents.
Prenzlauer Berg is easy to reach by tram. It has some famous landmarks: the oldest water tower in Berlin, and Rykestrasse Synagogue, built in 1904 and set on fire during Hitler's time. It reopend in 2007, after meticulous restoration, to its earlier splendor.
Other places of interest include the Zeiss Planetarium, Pankower Village church, Bibliothek City Hall Pankow, the Baroque Kavalier house and the old bakery in Wollankstrase.
Weissensee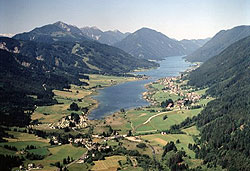 Weissensee is an idyllic area named after the lake Weisser See, which is at its centre. The serene beauty of a park surrounds the lake.

There are beautiful old buildings built in the 1920s. The most popular part of Weisensee is the Composers quarter, with streets named after classical composers. A kilometre away is a much less attractive part, dominated by poorly-maintained residences and light industry.
Niederschonhausen
This is a lovely green neighbourhood with several parks, and classically-styled homes built in the 1900s. An important landmark is castle Schloss Schonhausen, formerly the residence of the President of East Germany. It now houses the Federal Academy for Security Policy (BAKS).
Wilhelmsruh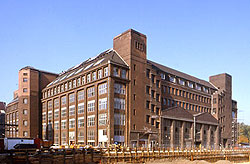 Wilhelmsruh was an industrial centre, and during World War II was destroyed by British bombs. It was rebuilt after the war, only to be closed down as the industry of East Germany deteriorated.

In the last 10 years it has been redeveloped, with the construction of the Pankow Gewerbegebiet industrial park. The population has increased, as many new single-and multi-family homes and town houses have been built.
Following a popular uprising in 1960 against the communist government, it was decided to re-locate the members of the East German government here, for protection in the event of social unrest. Until 1973 Majakowskiring was out of bounds to normal citizens of East Berlin.
Rosenthal
Rosenthal was an industrial zone before World War II. It used to be bounded on one side by the Berlin Wall.
Blankenfelde
Blankenfelde is a vast but little-populated area, once used for East Berlin's waste disposal.
Franzosisch Buchholz
Franzosisch Buchholz was the site of a horse racing track during the 1800s.
Buch
Buch is a former industrial area where sewage facilities used to located. Some of the environment is still contaminated, which prevents some of the land from being utilized now. Campus Berlin-Buch, a prestigious biotechnology institute, is in this area.

Blankenburg is a suburban area which grew out of a village. The well-preserved village is now surrounded by single-family houses. On its edge is found part of the University of Applied Sciences.
Karow
Karow is a part of the district which boasts brand-new residential developments.
---