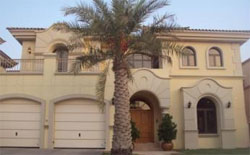 The upscale and massive Palm Jumeirah (a prime area) rising from the Persian Gulf has extended Dubai's coastline by almost 80 kilometres, and has gained the nickname "the Eighth Wonder of the World." It has been constructed in the shape of a palm tree, with a trunk, 16 fronds, and a crescent surrounding the tree.

Aside from luxury waterfront villas and apartments, Palm Jumeirah is touted as a first-class tourist destination with five-star hotels and resorts, such as the Atlantis and its theme park, and the majestic cruise ship QE2, permanently berthed in the island as a floating luxury hotel.

As the world's biggest man-made marine reef, Palm Jumeirah is already thriving underwater, destined to make it a popular site for scuba diving and snorkelling, as well as other aqua sports. The island will be connected to the mainland by land bridges and it will have its own monorail system, and a unique undersea tunnel that will let vehicles easily travel around the island.
Palm Jumeirah is the smallest and the first of the palm island developments (the others being Palm Jebel Ali and Palm Deira).
Palm Jumeirah's Trunk, which leads to the residential and commercial fronds of the whole development, is connected to the mainland by a bridge and a monorail to the Al Sufouh district.
Running the length of the Trunk is the Golden Mile, a mixed residential and commercial area with several apartment buildings, five-star hotels (including the lavish Trump International Hotel and Tower under construction), and dozens of shops and eateries. The Shoreline Apartments on the Trunk consist of 20 buildings, all painted green, near the beach. The complex has private swimming pools and gymnasiums for its residents.
Palm Jumeirah's 16 Fronds are residential areas, with villas, townhouses and apartment buildings along the beaches.
The Crescent surrounding the Fronds and the Trunk serves as a breakwater that protects the rest of the Palm from the waves. There are several hotels on the Crescent, including the deluxe Atlantis Hotel, which consists of two towers and two monorail stations that link it to Palm Jumeirah's Trunk.
---