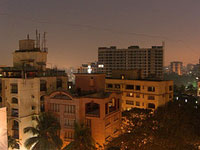 Pali Hill is a fashionable, mainly residential upscale area in the Bandra (West) suburb. It is Bollywood's equivalent of Beverly Hills.

Pali Hill Road was recently renamed Nargis Dutt Road, after the wife of the late Bollywood actor and Member of Parliament, Sunil Dutt. It was and still is one of the most up-market residential enclaves of the filmworld, where for instance, Bollywood icon Dilip Kumar lives.
Pali Hill was mostly built in the 1890s. The area became fashionable in early 20th century Mumbai. In the 1950s it became the hub of movie, stars since the 1950s when Bollywood icon Dilip Kumar bought a spacious 1920s Italian villa (48 Pali Hill), one of the most outstanding residential locations at the curve of the hill.
The major buildings on Pali Hill are Manju Mahal, Nibbana, Girnar Apartments, CosiHom, Hill Top, Hill-N-Sea, Jolly High-Rise, Hill Range, Marina and Bella Vista, Gulmohar. Girnar Apartments is where a whole clutch of prominent film personalities live.
There is a road going through Pali Hill named Zig Zag Road.
A number of prominent schools are also located here, for instance Bai Avabai Framji Petit Girls High School (originally an orphanage for Parsi girls) which schooled a huge number of film stars. Another prominent school is St. Anne's High School, whose alumni also include prominent film personalities.
---