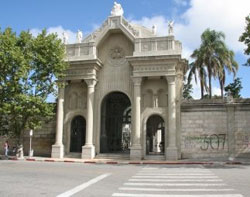 Like Barrio Sur, Palermo's streets come alive with candombé music every weekend.

It is one of the oldest districts in Montevideo, with some poor areas. The residences here are mainly old colonial-style houses. There are a few shops that sell inexpensive merchandise, but for grocery needs one must go to the commercial district on 18 de Julio Avenue.


Gaboto
The neighborhood of Gaboto was once a low-income district. Tenement buildings housed families in cramped rooms and shared sanitary facilities.
Following violent mass evictions as a part of the city's gentrification project, Gaboto has been transformed into a tourist hub with quaint hostels, some of which offer cena shows, or live tango shows with dinner included.
---