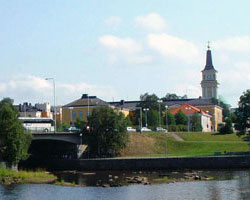 The province of Oulu has a subarctic climate, meaning it has long, freezing winters and short, warm summers. However, the maritime areas, including the coast, where Oulu's capital is situated, have milder winters than the rest of the province.

Like many other Finnish provinces, Oulo is an excellent place for outdoor sports and adventures. It is home to several national parks that offer good hiking trails amid river valleys and pine forests.

Ruka, a major Finnish ski resort, is in the quiet little town of Kuusamo. It is an excellent place from which to venture into the regional wilderness of mountains, valleys, rivers, wild rapids, and rich forests. The region of Lapland used to be part of Oulu, until it became a separate province in 1936. Oulu is currently divided into the regions of Northern Ostrobothnia and Kainuu. Agriculture is Kainuu's main industry, but since forests make up 95% of its land area, it has never generated much income for its small population, which is on the decline. Northern Ostrobothnia is bordered in the east by the Gulf of Bothnia and by Russia in the west. The provincial capital, Oulu City, is in this region on the coast. Northern Ostrobothnia's population has the lowest average age of any region in Finland.
Oulu City
Oulu City lies on Finland's western coast and has a moderate climate, in contrast the subarctic conditions in the rest of the province.
Oulu is the largest city in Northern Finland, a technology research and industry hub, with free wireless internet in more than a thousand "hot spots" throughout the city. Nokia is one of its biggest employers.
Oulu does not have a lot of old buildings it's a bustling modern city and the residential, office and commercial buildings reflect that but it has a vibrant cultural life, with a variety of music, classical, jazz, and rock concerts and festivals throughout the year. The city has a youthful population that patronizes a lively array of restaurants and bars, many of them lining the pedestrian hub of Kirkkokatu.
The University of Oulu, which is known as the birthplace of Internet Relay Chat (created by a faculty member in 1988), is here. Other attractions in Oulu include the Tietomaa Science Centre, Ainola Park, botanical gardens, and several art and history museums.
---