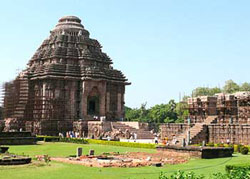 Orissa is a peaceful retreat from the rest of the world, as it is very isolated. Many of the people, especially the western tribes, adhere to a simple way of life and tend to be ignorant of urban ways. 38% of the population are either scheduled castes or tribes.

Only about 20% of the road network is paved, and in rural areas must of the population no access to safe drinking water. 47% of the population lives below the poverty line.
Orissa has a tropical monsoon climate, especially rainy from July to August, and October to November, due to storms blowing in from the Bay of Bengal. Intense cyclones are common, leading to many deaths. It is very dry here in winter, except in the northern part of the state.
The Simlipal National Park Tiger Reserve is home to elephants and tigers while estuarine crocodiles enjoy a protected existence in the Bhitarkanika Wildlife Sanctuary. Orissa's Chilka Lake is the largest coastal lake in India, and is within a bird sanctuary where 150 species of birds thrive.
Unfortunately mosquitoes are just as plentiful as other creatures in Orissa and carry malaria. The climate is very conducive to the proliferation of mosquitoes as it is fairly wet.
Orissa is largely Hindu, though historically Buddhism and Jainism have been influential, and tribals are significant. Numerous temples attract tourists and pilgrims. Especially popular are the impressive Sun Temple at Konark, the Barabati Fort of Cuttack, and Jagannatha's temple overlooking the sea at Puri. Also found in Orissa is one of the longest dams in the world, Hirakud Dam.
Bhubaneswar, Orissa's capital, has many famous temples. Of these, the most renowned is Lingaraj Temple. The city of Puri, nearly, is one of the four holy cities of Hinduism, host to an annual "car festival".
---