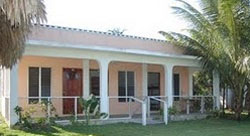 Original settlement in Orange Walk District is attributed to mestizo Mayas seeking refuge from the Caste War in the 1840s. Their descendants still occupy the region and mostly comprise its population. Kekchis, Garinagu, and Mennonites make up the other communities.

The district is the second largest in Belize and was once the seat of sugar production. Its sugar mills still operate but more farms now grow citrus and other crops. Non-economic activities include research and the preservation of wildlife in forests and lagoons. Honey Camp Lagoon is a local treasure, as submersion in its waters is believed to ease fatigue and tension. Parts of the lagoon's surrounding lands, once occupied by Mayan houses, are now privately owned individual lots that remain undeveloped. Undisturbed areas are covered with coconut palm trees and thick grass.
The region preserves the Lamanai and Cuello Mayan ruins, but they don't seem to regularly attract tourists.
Orange Walk Town
Orange Walk Town is the district's capital and the most populated area in the region. Its former status as the country's sugarcane giant earned it the title Sugar City. It thrives on commerce and agriculture and still produces rum. The town does not offer much in terms of architectural design, which is limited to clapboard houses and concrete buildings. Furthermore, there is not much activity going on except during harvest season. But there have been private initiatives to attract visitors which include the construction of several hotels. Residential investments are now offered, and road access to residential areas has been improved.
---