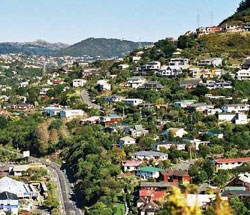 The Onslow-Western Ward is composed of the following official suburbs: Crofton Downs, Kaiwharawhara, Karori, Ngaio, Ngauranga, Northland, Makara, Makara Beach, and Wilton. The informal suburbs are Cashmere, Chartwell, Rangoon Heights, and Te Kainga.



Karori
Karori is the largest suburb in New Zealand, characterized by modern townhouses and large family villas. The neighbourhood has excellent amenities as well.
Being the location of the Karori Wildlife Sanctuary and the Wright Hills Fortress, Karori is a popular site for hikers who want to explore the region and admire its exquisite flora and fauna.
Northland
The suburb of Northland is based around the local public school, Northland School. Housing in the area includes renovated state houses, old villas, 1920s bungalows, and contemporary mansions. Some of the properties enjoy views of the city, harbour and nearby hills.
Crofton Downs
The fast-growing suburb of Crofton Downs is especially popular among newlyweds for the increasing number of reasonably priced subdivisions and houses being built, which range between $450,000 and $600,000.
Kaiwharawhara
Kaiwharawhara's contemporary townhouses and upmarket architectural homes enjoy spectacular views of Wellington Harbour. The suburb is particularly health-conscious. It has incorporated into its community plan the historic Bridle Track, which was part of an old Maori track and was the first route north from Wellington.  
Kaiwharawhara has two cafés. One offers genuine French cuisine, the other organic meals.
Ngaio
The sunny suburb of Ngaio has weatherboard houses and old railway cottages that were built in 1928 as part of the Tarikaka Settlement. The late 1990s saw the construction of stucco subdivisions along the sides of Mount Kaukau.
Makara
Makara is found at the western edge of Wellington, along the coast of the Tasman Sea. It has breathtaking views of South Island and Mana and Kapiti Islands. The semi-rural suburb has a rugged coastal walk leading up to Fort Opau.
Makara Beach
Makara Beach is a coastal settlement 10 kilometres east of Karori. Its rocky coastline is a catchment for shellfish and driftwood. The area has a walking track leading up to gun emplacements on top of a hill. The hill provides great views of the coast.
Wilton
The suburb of Wilton has become a popular weekend getaway for Wellington City residents because of its native bush, parks, and bush walks. A notable attraction in the area is Otari-Wilton's Bush, a public botanical garden that features only native plants.
There are only a few properties for sale in Wilton. A three-bedroom home can be purchased for $450,000 and up. Because it is only a few minutes away from the city, Wilton has no amenities, except for a dairy shop and a bowling club.
---