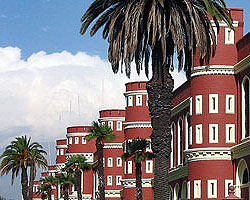 Named after one of Chile's founding fathers, Bernardo O'Higgins, this region in central Chile is another mine-rich area. Some of the world's most important copper mines are here, including El Teniente, the world's largest underground copper mine.

Much of Chile's rural population is also concentrated in this region, living in small traditional towns and villages.

O'Higgins capital, Rancagua, is a major city, now linked to neighbouring Santiago. Founded in 1743, it boasts some well-preserved Spanish colonial architecture.  It is also famous for a major battle for Chilean independence fought by O'Higgins and his men against the Spanish, and for the caves where they hid when they were routed, known as the Cuevas de las Patriotas.
There are several other large cities, San Fernando being the most important after Rancagua.
The O'Higgins Region is divided into three provinces: Cachapoal, Colchagua, and Cardenal Caro.
---