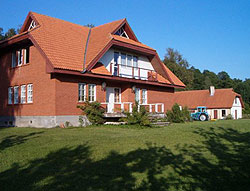 The Ogre District is roughly in the centre of Latvia, spread out over parts of the Zemgale and Vidzeme regions. It is the second-smallest district of Latvia in terms of size, but it is has the second-largest population among the districts, after the Riga District. The name of the district and its main city comes from the Ogre River.

The territory of the Ogre District has been inhabited since the Bronze Age, by the people known as the Latgallians. The first major structures were built by German knights in the 12th century; these include Ogre Castle and a Christian church at Ikšķile that dates from 1185. A great variety of historical monuments can be found throughout Ogre: ancient castle mounds, medieval castle ruins, Baroque-period manors set in extensive parks, and churches endowed with ornate altar-pieces and other artworks. The ancient Platere castle mound, found here, is considered to be the geographical centre of Latvia.
The town of Ogre is situated at the point where the Ogre River meets the mighty Daugava. A number of other rivulets like Urga, Norupite, and Lebina also flow through the town. It is a refreshing place thriving with greenery; over half of Ogre is occupied by parks and wooded areas, particularly pine- and fir-rich forests. A mild climate combines with the green surroundings to make Ogre a favourable country holiday spot in fact, it has been known as a a health resort town since 1862. It is at a distance of some 37 km east of Riga, Latvia.
---