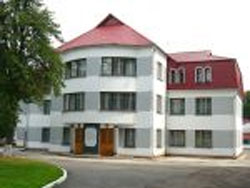 Since the cleanup of the lakes in Obolon, (a prime area) the area has been a popular rest and recreation area for Kiev's citizens.

A construction boom began in 2000, reviving the raion with the rise of new, comfortable apartment buildings constructed close to the Dnieper River. New apartments in Obolon are more expensive than in other suburban areas, but cheaper than in Kiev centre.

High-rise complexes overlook the river, with spectacular views and a wide selection of restaurants. Some buildings have centralized courtyards surrounded by an array of eateries ranging from Chinese and Japanese restaurants to Italian pizzerias, and pubs and tea shops conveniently located close to each other.

Obolon hosts the city's largest shopping mall, Karavan, with high-end boutiques and retail shops, a hypermarket, cinemas, and bowling alleys, billiards halls and skating rinks. The giant Petrivka book and electronic market is only a couple of metro stops away.
Puscha-Vodytsia
Puscha-Vodytsia is a historic neighbourhood. Its name combines two Ukrainian words: puscha, meaning "dense forest", and Vodytsia, the name of a nearby river. A dacha settlement was established in the forest in 1899, and from there the neighbourhood grew into an urban area in the Obolon raion.
---