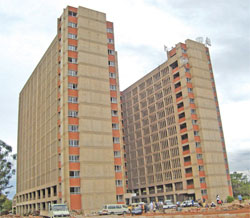 Nyanza is one of Kenya's administrative provinces. Its capital is the port city of Kisumu.

The largest communities living in Nyanza are the Luo tribe who live along the lake and the Kisii tribe who live in the neighbouring highlands. Barack Obama Sr., father of the current US president, hails from this province and is of Luo descent.

The Masai Mara National Reserve runs along the Tanzanian border of Nyanza. Known the world over for the Grat Migration of wildlife that makes its way here from the Serengeti from July to October, the area is naturally very lush and teeming with wildlife. It is a great opportunity to observe animals in their natural habitat. Other popular places to visit in the area are trekker-friendly slopes of Kenya's second highest peak, Mount Elgon, as well as the verdant canopies of the Kakamega Forest Reserve.
Kisumu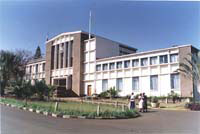 Nyanza's capital is the humid but pleasant port town of Kisumu on the shores of Lake Victoria. It is also the third largest city in Kenya.

One of the city's attractions is Kisumu Museum, which has several outdoor wildlife enclosures, crafts pavilions, and prehistoric exhibits. Its biggest exhibit is a life-size recreation of a Luo family compound, complete with houses, granaries and livestock pens.
Kisumu has some 3-star hotels. Visitors to the Ruma National Park start out from Kisumu. The village of Dunga, not far from Kisumu, has a fishing harbour and a popular viewing area over Lake Victoria called Hippo Point.
Lake Victoria
Lake Victoria is the second largest freshwater lake in the world. Its waters are rich in fish, including the large game fish called the Nile perch. It has over 80 islands, on whose shores can be seen hundreds of species of birds, including parrots, fish eagles and kingfishers.
Small fishing villages and the port town of Kisumu can be found on the lake's shore, as well as the The Rubondo Island National Park.
---