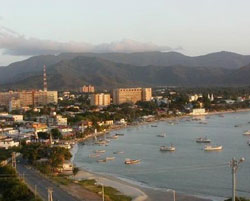 Nueva Esparta (a prime area) is off the coast of the Peninsula of Araya and surrounded by the Caribbean Sea. It is the smallest state in Venezuela and one of the oldest in the country, having been founded in 1525. It consists of three islands—the large Isla Margarita and the small and dry Cubagua and Coche. The islands are known for their breathtaking coastal scenery and the engaging nature of their residents.

The state's economy is supported by commerce, fishing and tourism. Tourism provides much-needed employment and the duty-free port helps generate local income.
Isla Margarita is the most tourist-friendly of the islands. Its beaches vary in beauty and services. The east coast has resort developments and can get pretty crowded during holidays and weekends, while the west is relatively untouched. The state capital, La Asuncion, is in a river valley. The biggest city is Porlamar. Owing to the Spanish settlement, there are many colonial buildings on the islands.
Isla Margarita
Isla Margarita is one of the most pleasant places to stay or visit in Venezuela. It is the largest island in the Nueva Esparta state. Known as the Pearl of the Caribbean, it has 48 spectacular white sand beaches backed by verdant mountains and tropical palms. It enjoys about 340 sunny days a year. Tourists enjoy the duty-free shopping here as well.
The island is mostly arid, with some fertile valleys and wooded portions. Tourist development is concentrated on the eastern part, where most of the local residents live. Nueva Esparta's administrative capital, La Asuncion, is on Isla Margarita, as well as the commercial centre Porlamar. The  island's western part, the Macanao Peninsula, is sparsely populated as it lacks water.
The most popular beach is Playa El Agua, the longest and widest stretch of beach on Isla Margarita. Seafood restaurants and kiosks face the shore. Music concerts are held here and people love to go bungee jumping nearby.
Playa Parguito has strong waves that are favoured mainly by surfers. Playa Manzanillo is a protected bay and part of a small fisherman's village. It is more quiet and relaxed as it has no tourist accommodations but there are a few locally owned restaurants. Windsurfers and kite surfers head to Playa El Yague which has calm waters and lots of wind. Most of its visitors are Europeans. Families with children also flock to this beach.
Holiday apartments, 2-storey townhouses and exclusive vacation homes with swimming pools are on offer on Isla Margarita. It has some of the cheapest real estate prices in the world, but also has some luxury offerings like the housing complex Terrazas de Cimarrón, which is part of the Cimarrón Country Club.
---