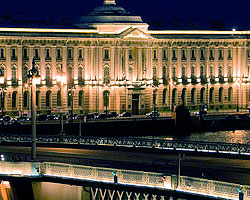 The Northwestern Federal District consists of 11 communities, with the great imperial city of St Petersburg at its heart. A number of important Russian towns are found here as well, including Vyborg, which is known for its medieval architecture, and Staraya Ladoga, one of the earliest settlements in Russia, now with a museum and park.

The district lies in the central part of the Eastern European plateau. It experiences mild winters with rain and snow. Spring and autumn are short seasons here. The summers here are fairly warm but short. Actual hot, dry days are rare, and only occur toward the end of midsummer. The weather can be unpredictable, with sunny days suddenly followed by rainy ones.

The Northwestern Federal District has many cultural and historic attractions, including two 12th century buildings in Staraya Ladoga: Nikolsky Monastery, believed to have been founded to commemorate a Russian victory over Swedish forces, and the town's kremlin, which protected it against invaders time and again. Other fascinating places to visit are the medieval Great Uspensky Monastery, set in the caves of a limestone cliff face in the town of Tikhvin, and the grand Tsarist palaces and parks of St Petersburg.

There are many places here that offer good sites for camping and hiking, especially within the Russian part of Karelia. Interesting natural sites here include Lake Ladoga, the largest lake in Europe, and Lake Onega, the second largest.

The area of the district totals 1,687 square kilometres. The population consists of 13,501,000, which is almost 10% of Russia's entire population.

The Northwestern Federal District has had per capita incomes above the national average for the past five years.
---
Find properties for sale in Northwestern Federal District, Russia