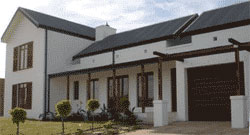 The municipalities of Bellville, Durbanville, Goodwood, Parow, Khayelitsha and Mfuleni are collectively known as the Northern Suburbs, and are part of the city of Tygerberg. It is close to Cape Town International Airport and contains a wide spread of commercial and light industry from the Grand West Casino complex to wine estates. Most of the people who live in the Northern Suburbs speak Afrikaans as their first language, as opposed to the residents of the south, who speak primarily English.

Thanks to the language, Johannesburg natives who relocate to the area mostly choose to live here, and the Northern Suburbs' population is steadily on the rise.
The commercial area known as Century City is considered the division between north and south, though Northerners also want to emphasize that Century City belongs on their side.
Durbanville
Durbanville is a high-income residential suburb in the northern suburbs of Cape Town. Wine-making started here in the 17th century, and it has become quite famous for its excellent Sauvignon Blanc.
The expansive vineyards of Durbanville's wine valley produce award-winning whites and reds. Currently, the wine route has 9 cellars that bring forth quality varieties.
Durbanville remains a highly sought-after residential area. It has a very low crime rate, numerous primary schools, and is near popular attractions such as the large Tyger Valley Shopping Centre, the Willowbridge Shopping Centre opposite it, and the Tyger Valley Waterfront commercial and residential development.
The suburb's 18-hole golf course is considered the best one in the northern suburbs. Durbanville also has a nature reserve where people can go on picnics and admire the fynbos, or shrubs, that grow in the area.
Every first Saturday of the month, a crafts market is held at the cultural centre in Rust-en-Vrede. The centre itself houses a museum that displays works by local artists who work in clay and ceramics.
Durbanville continues to grow and develop, as more and more guest houses, shopping centres, restaurants, cafés, and pubs are being constructed here.
Bellville
Bellville is one of the northern suburbs of Cape Town, in the heart of the Tygerberg Hills. It was once called 12 Mile Stone, as it is 12 miles away from Cape Town's city centre.
The suburb's commercial area is concentrated along Durban Road, where shopping centres, boutiques, and recreation centres are located. Adjacent is Edward Street, filled with restaurants, bars and nightclubs.
Homes in Bellville have great views of vineyards and mountains. There are reasonably priced 1- to 2-bedroom apartments on offer here.
Bellville does not have major tourist attractions, but it has the 18-hole Bellville Golf Course in the neighbourhood of Welgemoed. The course spans a valley with gentle hills, and has a lovely view of the Hottentots Holland mountains.
Goodwood
The cosmopolitan suburb of Goodwood lies between the northern and southern suburbs of Cape Town. It consists of the neighbourhoods of Glenwood, Goodwood Park, Goodwood West, Tygerdal, and Vrizjee.
Goodwood is a primarily residential neighbourhood of about 7,000 homes and a shopping centre, a hospital, and primary and high schools. It has a large Portuguese population. Affordable single units and cluster homes are available here.
Goodwood became quite popular when Cape Town's premier extravagant amusement complex, the GrandWest Casino and Entertainment World, opened here.
As South Africa is hosting the 2010 FIFA World Cup, the construction of numerous lodges, guesthouses, apartments and hotels is underway in cities and suburbs, including Goodwood.
Parow
Parow is a commercial and industrial northern suburb of Cape Town. It lacks major tourist attractions, but has easy access to Cape Town's large shopping centres and entertainment complexes, such as Tyger Valley, Canal Walk, and Willowbridge in Durbanville and the GrandWest Casino and Entertainment World in Goodwood.
The suburb is still quite a bustling area, despite the migration of some of its population to the other northern suburbs in recent years.
Parow has a golf course and offers a number of self-catering 1- to 4-bedroom holiday apartments.
Khayelitsha
The township of Khayelitsha lies on the borders of Cape Town. It was established in 1985 to accommodate the fast-growing black population that was already overflowing in illegal settlements formed during the apartheid regime.
The neighbourhood, inhabited mostly by Xhosas, consists of many shacks made of cardboard, wood, and tin, hiding a vibrant culture that is now a feature in Cape Town township tours. Due to these tours' increasing popularity, the government implemented the construction of permanent houses to replace the shacks.
There are already crafts centres and training centres in the township, and many community projects are underway.
---