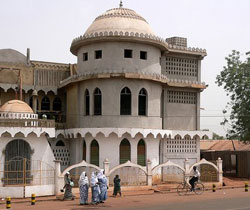 Close to the Sahara Desert, the Northern Region is very dry, covered by savannas and woodlands with hardy trees like acacia, mango, and mahogany. It is the country's largest region, and much drier than the south.

The Northern Region's small population consists mostly of Muslims from some 16 ethnic groups, among whom there has been some conflict. The recurring violence arising from these conflicts have forced many northerners to relocate to other parts of the country.

Despite its semi-arid nature, the Northern Region has hundreds of indigenous plant and animal species. In the Mole National Park in the West Gonja District are elephants, apes, buffaloes, wild pigs, antelopes, birds and hundreds of plant species. In the Jaagbo Shrine, a nature reserve built around a sacred grove, medicinal herbs abound and rare plants thrive.
The traditional domestic architecture in the Northern Region consists mainly of round huts with pointed roofs. There are also some fascinating old structures, including plenty of old mosques and a 15th century defensive wall made from mud, blood, and honey.
Tamale
Tamale is the capital of the Northern Region. It has the best road network in the country and has been voted Ghana's cleanest city several times, but it is a fast-growing urban area, and slum dwellings now sit alongside modern buildings and tribal palaces.Schools of every kind are plentiful in the suburb known as Education Ridge.
Because it relies mainly on hydroelectric power, the city tends to experience power failures whenever there is a drought.
---