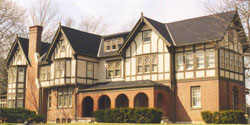 Traditionally called Moldavia, the rustic and stress-free atmosphere of Romania's Northeast Region has inspired artists, poets, and writers. Celebrated cultural icons such as composer George Enescu and national poet Mihai Eminescu grew up in this region.

To the west are the striking Carpathian mountains, covered with alpine forests; to the east are rolling plains and plateaus, lakes, verdant vineyards and large farms, an impressive landscape that changes colour with each season. Much of the region is isolated and has yet to be discovered by tourists.
Romania's Northeast is an ideal setting for naturalists and adventure-seekers. Mountain sports are big around these parts, where horse riding, rafting and skiing are just a few of the options available. Much of the country's natural reservation sites are in this region, including Tudora, a preserved expanse of natural forest; Valea Lunga, home to a variety of botanical rarities; Vanatori, where herds of bison roam free; and Manzati, an area full of geological and paleontological phenomena.
Another unique attraction in the region are the salt deposits in Bacau and Suceava. Health resorts and underground museums have sprung up in the area and make for an interesting visit. There are also many spas in the surrounding Carpathians.
Much of Romanian traditional culture remains intact in Moldavia, particularly during traditional holidays. Easter is an especially great time to visit. Locals fast weeks prior to gathering for Easter Sunday Mass, which is then followed by lavish feasts.
Easter is a very important holiday in Romania; in fact, the tradition of painting and displaying Easter Eggs is reputed to have originated here. The costumes, folk masks, weavings, pottery, and handmade wooden carvings sold in markets and displayed in museums here are vivid in colour and intricately designed.
Though religious, and deeply traditional, the locals are generally friendly and hospitable towards foreigners. Most don't really speak English, but are always willing to help visitors in any way they can. Their pleasant and gracious character especially comes in handy when visiting the many preserved medieval towns throughout the region. Locals not only know every inch of these historic towns, but can point to rarer sights, such as centuries-old monasteries that can be overlooked. Many of these landmarks, with their elaborate Byzantine exterior frescoes, are now protected by UNESCO.
Away from the rural areas, the main cities in the region have become strong commercial and industrial centres, thanks to low-cost yet skilled local labour. Lasi, for instance, has many major industrial firms, and is also one of the country's main university towns. Bacau, a trading centre in the Middle Ages, has blossomed into a prime area for foreign investment. Botosani and Vaslui are currently giants in the textile and processing industries. With the steady influx of people into these cities, property investment is steeply on the rise. New residential areas, luxury villas and apartments are on the rise in many parts of the region.
Iaşi
Iaşi is the second most populous county in Romania after Bucharest. The surrounding land is mostly rural and agricultural, with industrial urban areas. The county capital, also called Iaşi, is one of Romania's major centres and the commercial, cultural, and economic heart of Moldavia. It has the country's oldest university.
---