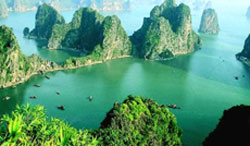 Vietnam's Northeast is one of its more isolated areas. It is fairly challenging to reach and quite underdeveloped. It is where Vietnam at its purest and most traditional can be experienced.

In its expansive countryside, small villages are embraced by lush greenery and farms dot the landscape. Its rugged lands, hills and forest reserves are largely uninhabited. The Cat Ba National Park juts out to sea and is blanketed in jungle. The Bai Tu Long National Park has karst formations and hidden beaches. The Ba Be National Park combines mountains and sparkling lakes nestled in forests. The reserve is a popular place for hiking and boat trips to caves and waterfalls.

Legend has it that the region's Ha Long Bay was created by a dragon that lived in the mountains. As the great dragon charged over the land, he thrashed his tail about, hollowing out valleys and cavities. When he finally threw himself into the sea, the displaced water rushed into the newly excavated pockets of land. What were left above water were the tips of these abysses. And thus Ha Long Bay was created. Its name loosely translates to "where the dragon descends into the sea".
This magnificent seascape was named a UNESCO World Heritage site in 1994. It has caves and 3,000 clusters of limestone pinnacles jutting out of the waters of the Gulf of Tonkin. The bay can be explored on cruise boats, best done between February and April. The cool and drizzly weather and low visibility due to fog add to the magic of the experience.
The northeast region is home to a number of ethnic minority groups. Tribes such as the San Chay, Man, Meo, Zoa, Nung and Tay people live in isolated areas, where trekking is necessary to reach them. The isolation allows them to live very traditionally simple lives and keep their distinct cultures intact.
One may never have guessed that this quiet, unspoilt region is the cradle of Vietnamese civilization. Much of the nation's history happened here, especially events involving China.
The Chinese have always had an affinity for Vietnam. The first time they invaded it was in the 2nd century, and though they were thrown out in the 10th century, they continued to meddle whenever they could. It was always through the northeast region that the Chinese approached Vietnam. The last time this happened was in 1979, when China punished the Vietnamese for invading Cambodia.
The northeast region also experienced exoduses. Thousands of ethnic Chinese fled in 1970 while thousands more Vietnamese evacuated the region in the early 1980s. This region witnessed much fighting, particularly on the road from Lang Son to Cao Bang during the French-Indochinese war.
Quang Ninh
Quang Ninh is a beautiful province of varied landscapes and coastlines. It is mostly hilly and mountainous, with forests in the west. Streams, waterways and canals flow from the mainland to the coasts and harbours.
Ha Long Bay consists of about 1,600 spectacular limestone islets and islands, magnificently sculpted by wind and waters. Most of the islands and their beaches are uninhabited. Some have not even been named.
The largest islands in Quang Ninh are Cai Bau and Ban Sen.
Halong City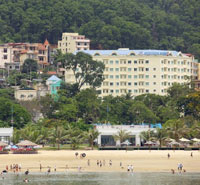 Halong City, which lies on Bai Tu Long Bay, is the capital of Quang Ninh.


Halong City consists of two sectors, Hong Gai and Bai Chai. Though Hong Gai has several hotels and tourist facilities, more industrial and administrative buildings are concentrated here. Bai Chai is more tourist-inclined, with high-class hotels. More hotels and budget accommodations are still being built. The city also has good hospitals and private medical centres.
Poem Mountain (Bai Tho), an inspiration to local poets, lies south of the city and provides scenic views of Ha Long Bay. Other places of interest in the area are the Quang Ninh Museum, Bai Chai Trading Center, Vietnam-Japan Cultural House, and Children's Cultural House. Hoang Gia Park has beautiful forests and lakes.
---