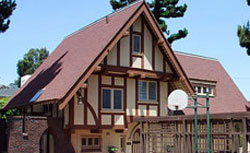 Intimate boroughs like Freguesia do Ó can be found Northeast São Paolo, small-town havens in the busiest city in Brazil. It is also home to the Sambodromo and the foremost samba schools in the city: Gaviões da Fiel, Imperio da Casa Verde, Unidos do Peruche, and Rosas de Ouro.

Casa Verde is a chiefly middle-class district whose population is mostly descended from slaves. The town was named after an arrestingly green house in the district owned by a prominent Brazilian.
Santana is a residential borough with a large forest reserve for nature trips, a recently-established Youth Park, and a shopping centre.
Jaçanã-Tremembé shares with Santana part of the Cantareira native forest reserve, though its southernmost area is mostly urban. Originally called Uroguapira because of its gold ore, the district was renamed Jaçanã after a local bird species. The first cinema studio in São Paolo opened here in 1949.
Vila Maria/Vila Guilherme is the city's carrier centre, deriving most of its income from the transportation of cargo. The famous samba school United Vila Maria, the Expo Center Norte, and major shopping malls carrying top designer labels are found in this district.
---