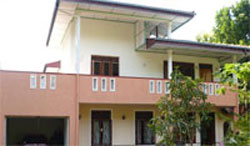 The Northwestern Province consists of the districts of Kurunegala and Puttalam. Its capital is Kurunegala City.

This province is known for its numerous coconut plantations, but rice is the main agricultural crop. It also has the Mawathagama and Polghawela Export Processing Zones.

The western coast of the province has 240 kilometres of sun-kissed beaches stretching from Waikal in the south to Dutch Bay in Puttalam. The best resort beaches are at Marawila, Talawila, Kalpitiya and Waikal. These are situated by lagoons or on the river, making them all the more suitable for a beach holiday. Some resorts also offer viewings of the underwater coral reefs off Kandakuliya and Karaitivu. Fishing villages dot the coastal areas
There are a number of ancient Buddhist rock temples near Kurunagela City. The Munneswaram temple of Lord Shiva and Udappu Hindu temple are pilgrim centres. The main temple at Munneswaram is built in the traditional Hindu style. It celebrates a festival in August during which fire-walking is practiced. St Anne's Roman Catholic Church on a picturesque stretch of beach in Talawila draws thousands of pilgrims to its main festivals in March and July.
---