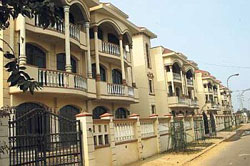 North West Delhi is an important district, now becoming prosperous, as reflected in its modern high-rise architecture. There are corporate high rises, and many apartment buildings. It has both popular and upscale malls, and fashionable establishments, which attract many outside visitors.

Two North West Delhi neighbourhoods stand out:
Saraswati Vihar has five blocks, each with its green park, originally meant to house teachers at district schools. Now business people have increasingly taken over. There are more than a thousand houses, in sizes ranging from 98-330 square metres. Saraswati Vihar has its own electrical supply facility and is near the metro station.
Narela is a large, mainly residential area, also known as Model Town, close to Delhi University. It has a couple of parks, some restaurants, and a few corporate offices. There is a market here on Wednesdays.
---