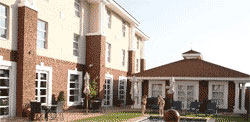 The North West's wild and scenic beauty is a refreshing break from the wearying hustle and bustle of city life—majestic mountains, golden fields of corn and sunflower, small villages, warm and welcoming people.

The North West forms part of the Kalahari Desert, and has plenty of year-round sunshine. Towns in the western areas are slightly hotter, while those in the southern areas are a bit cooler. Winters bring dry, sunny days, while summers (August to March) bring short afternoon thunderstorms.
The Pilanesberg Natural Park and Game Reserve is the site of the crater of an extinct volcano, and is one of the largest volcano complexes in the world. It contains many unique and rare rock types and is teeming with physical evidences from the Iron Age and Stone Age.
For a unique cultural experience, there are several villages in the park that offer visitors a glimpse of their colourful lifestyles and traditions. The recreated traditional African village of Lotlamoreng in Lichtenburg is quite popular with tourists.
Mafikeng
The 'City of Goodwill', Mafikeng, is the province's capital, a vibrant town with many shopping complexes and residential areas. The Madibi goldfields are located just south of the city. But perhaps the most popular destination in the North West is Sun City, a multimillion-dollar investment that started out in the 1960s, a virtual playground and watering hole for locals and tourists alike. Just two hours' drive from Joburg, Sun City is a sprawl of commercial complexes, hotels, restaurants, and sport and recreation areas.
You will also get your fill of historic and cultural pursuits by exploring caves and ruins of ancient temples. The Shrine of the Sacred Monkey, the Bridge of Time, and the Valley of the Waves are perfect places to visit for any history buff.
Students might recognize the town's name—albeit under the variant Mafeking, as it was known then—as the site of a months-long siege by the Boers that was withstood by British forces led by Robert Baden-Powell until they were relieved by reinforcements. Baden-Powell later achieved even greater fame as the founder of the boy Scouts.
Mafikeng has many hotels and bed and breakfast inns, a casino, two fine golf courses and the International School of South Africa. It has a cultural village, museums and recreational facilities.
One of its main attractions is the Mafikeng Game Reserve. It covers 4,800 hectares of the Kalahari on the eastern edge of Mafikeng and is home to several species of wildlife, including white rhino, buffalo, antelope, zebra, giraffe and ostrich. The reserve also has abundant bird life, especially families of waxbill and finch.
There are visitors' accommodations that include rooms, picnic sites and a restaurant.
---