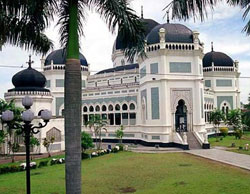 The province of North Sumatra is most famous for its surfing. Consisting of 5 island groups, the waters here are known worldwide, especially those in Lagundri Bay, Bawa and Treasure Island.

Outside of the surfing, North Sumatra has many other natural blessings. It is a beautiful symphony of thick lush forests and jungles that cover flat, hilly and mountainous areas. Rice fields, cold mountain streams, majestic waterfalls and quiet beaches adorn the province as well. The natural habitat here protects birds, deer, orangutans, buffaloes and other wildlife. Sitting in North Sumatra's belly is Toba Lake, one of the largest in the world.
North Sumatra has the largest crocodile breeding farm in Indonesia, found in Medan. It has over 2000 different varieties of crocodiles. Other interesting places are the Greak Bukit Barisan Forest Park whish has a zoological museum, and the beautiful Lake Toba.
Lake Toba can be seen from the town of Parapat. Lake Toba is 50 miles long, 16 miles across and 1400 feet deep. The lake welcomes recreational activities such as swimming, motor boating, fishing, water skiing and canoeing.
North Sumatra is an anthropologist's heaven. Lingga is a Batak Karo village with well-preserved traditional homes. The village of Jangga is on a hill and home to different Batak communities. This Batak village is well-visited by domestic and foreign tourists. In the villages of Bawomataluo and Hilisimae on Nias Island, the traditional war dances are thrilling to watch. Performers garbed in traditional costumes with bird feather head dresses, leap over 2 meter high stone barriers and engage in other thrilling high jump moves.
Nias Island
The fabled Nias Island lies west of Sumatra and is close to the islands of Batu, Mentawi, and Simeulue. The island has an overall rugged landscape and is thickly forested inland. The north, where the capital Gunung Sitoli lies, is full of swamps. The west coast is particularly rocky and harsh. The east coast has gentler shorelines and fine beaches. The southern coast, which has charming hill-top villages, offers some of the best surfing in Indonesia. The very popular Lagundri Bay, a paradise for boarders, is here.
Nias Island has a rich ethnic culture, and there remains a trace of its famed megalithic civilization, both in the ruins and some villagers' way of life.
Malaria is still a great concern in Nias, which was the main reason why colonizers did not penetrate the island, leaving it free from outside influences.
Samosir
The small volcanic island of Samosir is a favourite travel destination in Indonesia. It was once a peninsula which became an island when the Dutch dug a canal at its neck. It is now connected to the North Sumatra mainland by a bridge.
In Samosir are many Batak villages with traditional rumah adat houses. It has a pleasant and laidback atmosphere. It is cradled by the blue-green Lake Toba, the largest lake in Indonesia, and the world's largest volcanic lake.
There are three nice resort areas on the island. The Tuk Tuk peninsula has several hotels, restaurants, shopping areas, and even bookstores. The beach is good for sunbathing and swimming. Ambarita and Tomok are shopping areas as well, with stalls selling clothes, blankets, sandals and carved wooden handicrafts.
---