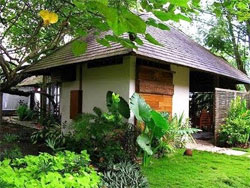 North Sulawesi was established as a province of Indonesia in 2001. The capital and largest city of the province is Manado.

Seventy percent of this province's population is Christian. Muslims, Hindus and Buddhists are minorities.

North Sulawesi has very rich soils. Coconut, nutmeg and clove are farmed all over the province. It is also rich in culture as the people here love music. Traditional music comes from the instruments like the Bambu, Kolintang and Music Bia. Dance too is popular, especially traditional folk dances. The Makamberu, Marambak, Tumatenden, Lenso and the Kabasaran are examples of traditional dances.

Manado is a beautiful city where life is simple and people are friendly. Beautiful places to see here are the Marine Park Bunaken and the Dua Saudara Preserve. A nearby city surrounded by pristine beauty and cool mountain air is Tondano in the Minahasa region.
Manado
North Sulawesi's capital is the bay city of Manado. The city, which was levelled by earthquakes, is surrounded by mountains and consists of nine districts.
Manado city, as the rest of North Sulawesi, is surrounded by amazing reef systems which have become diving hotspots. The area has a great biodiversity and some of the rarest sea creatures have been noted by scientists here. High-standard diving centres are concentrated on Manado's coastal suburbs, where tourist resorts also can be found.
Close to Manado is the Bunaken Island, famous for deep wall diving. The area, which is covered by Bunaken National Marine Park, is relatively untouched.

Bunaken Island
The tropical Bunaken Island is the top scuba diving destination in Sulawesi. The island has white sand beaches, pristine clear waters, tall mangroves, and fascinating cliffs. It is part of the Bunaken National Marine Park, which covers four more islands—Manado Tua, Siladen, Mantehage, and Nain—all featuring great marine biodiversity.
About 3,000 species of fish and 70 coral varieties can be found in Bunaken's cool, extremely deep waters, which are famous worldwide for wall diving.
Most resorts in the island cater mainly to divers and are quite expensive, but there are a few bargain places.

Minahasa
North Sulawesi's Minahasa has a history and identity shaped by Dutch rulers, European Christian missionaries, and its own remoteness. The region is home to some of the most interesting and most studied cultural minorities in Indonesia, which boasts five distinct languages, spicy cuisines made up of exotic ingredients, and old war dances.
Minahasa has one of the largest populations of Christians in Indonesia. There are numerous churches here, the highest concentration in the country.
Tondano
The quiet town of Tondano lies at the heart of Minahasa in North Sulawesi, making it the region's capital. The tropical town has abundant rice farms and coconut palm trees. The beautiful Tondano Lake is a great hiking spot and has restaurants above the water—a favourite of well-to-do residents of Manado. Remboken village sits on the edge of the lake and has many bungalows and a swimming pool.
Tondano, which is largely Christian, has a charming rural appeal, with the traditional bendi (horse-driven two-wheel cart) as the main public transport, though there are a few cars. Tondano has a number of religious and war monuments.
---