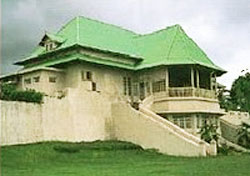 North Maluku in the Maluku region consists of the small volcanic islands that were originally considered the Spice Islands. The province witnessed several disputes in history, from the rivalling sultanates to the warring European spice traders coveting its precious cloves to the more recent political arguments over geographical boundaries.

North Maluku's islands are conical in shape and beautifully forested. The largest island is Halmahera, featuring four mountainous peninsulas. To the west is Ternate, which has a perfect volcanic cone, and is the seat of province's capital, also named Ternate. Ternate has been the centre of power in the islands for many years. Its neighbour and rival Tidore has fine beaches and picturesque villages.
Ternate
The cone-shaped island of Ternate lies in the North Maluku province. The active volcano Mount Gamalama is the most prominent feature here. Ternate, as the other islands in the province, produced the much-coveted cloves, and its sultanate was one of the richest and most powerful in Indonesia. Ternate was actually the dominant Moluccan sultanate in pre-colonial and colonial eras. Its biggest rival was its neighbour Tidore Island.
Ternate city is North Maluku's capital and main transport centre, a good place to start when exploring the other islands. The city has interesting places to visit such as the Sultan's Palace, which houses a collection of colonial swords and shields and the Dutch fort Oranye.
Ternate has beautiful black sand beaches, such as the ones found in the villages of Kastela and Rua.
---