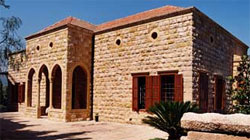 The governorate of North Lebanon is divided into 7 districts: Akkar, Batroun, Bsharri, Koura, Miniyeh-Danniyeh, Tripoli, and Zgharta. North Lebanon probably has the most number of national heritage sites in the country.

The region is especially famous for its medieval castles, churches and monasteries. One of these is the Crusader citadel of Mousaylaha in Batroun, which was built on a massive, steeply sloping rock. Another is the archaeological site of Tell'Arqa near the town of Miniara, which was the birthplace of Emperor Alexander Severus.
A famous location is the Holy Qadisha Valley, which once served as a place of refuge for those fleeing from religious persecution. Here, one can find early Christian monastic settlements and rock-cut monasteries. Situated here is the much smaller valley of Qannoubin, which is home to the monastery of Saint Elisha. The monastery's last hermit monk, Father Antonios Torbey, is nearing beatification in the Vatican.
Overlooking the Qadisha Valley is the historic city of Tripoli, Lebanon's second largest city. It is famous for its souks that sell handicrafts, and is the birthplace and resting place of the revered poet and artist Khalil Gibran.
Other sites of interest include the olive-growing district of Koura and the popular winter retreat, Cedars Ski Resort. The Palm Islands Nature Reserve is home to over 300 migrating birds, endangered sea turtles and other wildlife, and the Tannourine Cedars Forest Nature Reserve is the location of a deep rocky sinkhole and a major site for the country's precious, 1,000-year-old Cedars of Lebanon.
---