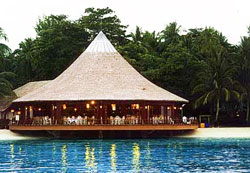 North Jakarta (a prime area) has many historic places to visit. One of these is the Lookout Tower, which provides a stunning view of the Sunda Kelapa Harbor. This harbour prospered in the 12th to the 16th centuries during the spice trade. The Maritime Museum nearby visually gives a great story of Sunda Kelapa Harbor's golden age. Nearby as well is the Jembatan Pasar Ayam, a Dutch-style drawbridge which has become a great historical landmark as a symbol of Dutch occupation in Batavia.

North Jakarta is famous for recreation because of Ancol Dreamland. It is a sprawling complex packed with theme parks, handicraft markets, aquariums, beach resorts and even an 18-hole golf course. North Jakarta has large shopping malls, cinemas, eateries and pool halls as well.
Thousand Islands, which are actually only about 100 islands, are located in the Java Sea. These are great places for relaxing, snorkelling, and diving around Pantara Islands. The larger islands have hotels, bungalows and guesthouses.
Kelapa Gading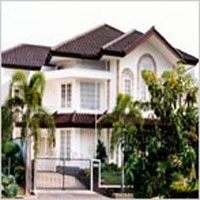 Home to many expats and wealthy Chinese Indonesians, the well-planned community of Kelapa Gading lies in North Jakarta and is a mere 30-minute toll way ride to the central business districts.

The most expensive residential areas in Kelapa Gading are Artha Gading Villa and Bukit Gading Villa. They feature luxury homes in prime locations.


Kelapa Gading has six shopping malls, the largest of which is Mal Kelapa Gading. The mall houses international fashion brands, Indonesia's largest book chain Gamedia, a department store, and a supermarket famous for its local food stalls. Artha Gading is the second largest, and features a Go-Kart circuit. La Piazza has an open plaza for live music performances. Sport Mall, as its name suggests, hosts North Jakarta's sports and athletic events. Currently under development is the Mall of Indonesia, with residences on the upper level.
Kelapa Gading is close to the site of Jakarta Garden City, a residential township which, upon completion, will provide cosmopolitan living in a secured and healthy environment.
Ancol Jakarta Bay
Ancol Jakarta Bay City is the main recreation centre in North Jakarta. It is the home of Ancol Dreamland, which features Sea World Indonesia, Fantasy World theme park, Marina Beach, and Atlantis Water Adventure park.
Ancol Dreamland is a very popular destination, as it has swimming pools, salt and freshwater aquariums, a bowling centre, a theatre, hotels, restaurants, and a golf course.
There are plans for expansion of Ancol Dreamland, which sits on a reclaimed land. The new developments will include more hotels, restaurants, and services.
---