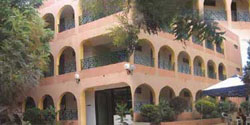 North Eastern Kenya is the country's third largest province. The provincial capital is Garissa.

Despite hot temperatures and no large sources of waterways, the province provides Kenya with almost 70% of the nation's livestock. The region is also abundant with wildlife, although certain species of antelope, giraffes and gazelles have become endangered.
Ethnic Somalis have inhabited North Eastern Kenya for years. The region also has a large number of refugee camps, with a large percentage of refugees coming from Somalia.
Garissa
Garissa is the capital of Kenya's North Eastern Province. Its population is predominantly Muslim and Somali. Humanitarian aid and services to the rest of the province start out from Garissa on their way to the less developed areas.
Garissa is part urban (it has a business district with hotels and office buildings) and part rural. Poverty and crime are huge problems here. Beggars and street children line the streets, and rival clan violence is not unheard of. Garissa has some slum areas—mainly manyattas, or fenced-in groups of huts that are a common sight among Maasai communities.
Garissa's services leave a lot to be desired. Only some of the homes are connected to the main water supply, and power is diesel-generated, for those lucky enough to have it at all. Few homes and businesses are connected to adequate sewerage systems too. The manufacturing industry is nonexistent; the economy is driven by agriculture and trading. Tourism is not big here.
Garissa lies along the Tana River. The river is one of the town's main sources of water, though it also threatens to burst its banks during the rainy season. Various wild species—from eagles to baboons to giraffes—can be seen from the road.
---