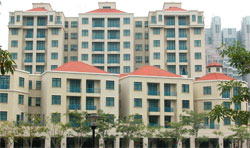 The North East Region's potential is still to be unlocked. Composed of developing and underdeveloped areas, it will appeal to those who enjoy the wild outdoors as well as the architecture of the 1960s and the close-knit ties of the kampongs.

Residential areas are supported by their own commercial areas, community centres and budding industrial estates. Although two MRT lines currently serve the region, another one is under construction in preparation for the influx of residents foreseen to relocate here.

The town of Ang Mo Kio has a friendly, village-like atmosphere where neighbours still know each other. If it is the architectural uniqueness you are after, Hougang's public housing flats are designed with large semi-circular balconies not found anywhere else.
The region's islands have been left pretty much on their own. Currently, the only signs of development in some of these islands are bike paths and shelters for tourists who enjoy the wild. Pulau Ubin, one of the few islands to be left untouched, is accessible through the Changi Village jetty. Marine life such as octopuses, starfishes, sand dollars, fishes, sponges, cuttlefishes and nudibranchs are found here.
---