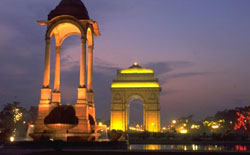 While mostly rural, North East Delhi (pop: 1.8 million) has a large urban area. It has 27 villages which are traditionally Indian in character. The three main administrative subdivisions of North East Delhi are Seelampur, Seema Puri and Shahdara.

Shahdara (Persian royal gate) is a suburb with many old markets. Its Chhota (small) Bazar is a good place to get traditional snacks and sweets as well as everyday needs, though its vegetable market is dirty and smelly.
The area of Vishwas Nagar in Shahdara is occupied mainly by poor to middle-class families, but is fairly clean and decent. A handful of wealthier families even live here.
---