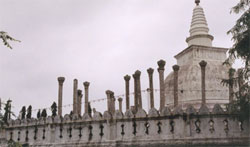 The North Central Province is one of Sri Lanka's poorest and least densely populated regions. The capital is Anuradhapura, which was the island's ancient capital. Dry tropical woodlands cover much of the province. Being economically backward, it not densely populated.


Anuradhapura
Once the island's capital in ancient times, the city of Anuradhapura has several palaces, temples, stupas, monasteries and monuments. Its sacred Bodhi tree reflects its status as an important place for the "Sangha" (community of Buddhist Monks). Theravada Buddhism spread all over the island from here. Thuparamaya, in which the collarbone of the Buddha is enshrined, is considered sacred to Buddhists.
The Jaya Sri Maha Bodhi is believed to be the oldest living tree in the world. Around 245 BC, the Indian princess and devout Buddhist Sanghamitta Theri travelled to the island, bringing with her a branch of the Bodhi Tree under which the Buddha attained enlightenment. The tree was planted on a high terrace in the city. By then, Anuradhapura was the capital of the island and continued to be so for hundreds of years more. The city was abandoned during an invasion in 993 AD. The remains of the sacred city were discovered in the 19th century. Restoration work is going on.
---